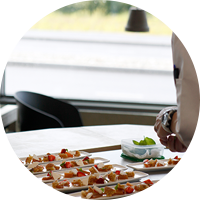 Meetings
CONFERENCE SERVICES AND PACKAGES 2019

valid between 2.1.-30.12.2019
Conference package includes meeting rooms in Art Factory. There are 5 meeting rooms in art factory which can also be combined to host up to 50-100 guests. Meeting rooms include modern AV equipment.
More information is available from: www.taidetehdas.fi
Minimum order is 10 people.
SINNE FULL DAY CONFERENCE PACKAGE 55,00 €
Food is served at Sinne Porvoo, just below the conference rooms
BREAKFAST@BISTRO SINNE

Your choice of either Croissant filled with Brie or Slightly salted salmon sandwich
Fresh juice
Coffee or tea
BUFFÈT LUNCH

With salad table and lunch of the day, coffee/tea
AFTERNOON
Sweet pastry of the season, fruits
Coffee and tea
SINNE HALF DAY MEETING PACKAGE 45,00 €
Food is served at Sinne Porvoo, just below the conference rooms.
Breakfast or afternoon coffee break and lunch from the buffét table.
SUPPLEMENTARY SERVICES / PER PERSON / BOTTLE
Fresh coffee, tea and smoked salmon sandwich 9,00
Fresh coffee, tea and sweet pastry 9,00
Fresh fruits for conference 6,00
"Superfood" smoothie from domestic berries 6,00
Dried organic fruits and nuts 4,50
Beverages 3,50
Hartwall Novelle mineral water (1 l ) 6,50
Other requirements agreed separately.
Special dietary needs will be considered without extra cost.
Invoicing is based on confirmed amount of guests at three weekdays before event.
PARKING
There are plenty of parking spaces available. Art Factory includes a large garage and two parking areas on site. 1st hour of parking is free at the garage (subject to change)
Garage is closed between 01-06
Parking fees
1,50€ / 1 h, first hour free
minimum fee 0,50€
Day fee 8€ (24 h, uninterrupted parking
More information: www.autoparkki.net or www.porvoo.fi
We are delighted to serve larger groups. In addition to conference facilities there are cinema auditoriums available for conference purposes. Auditoriums are located in the same building, next to Bistro Sinne and are therefore well suited for e.g. seminars and presentations.
Immediate access to cinema also enables a unique combination for dine & movie experience for customers looking for something different